700+
RSA Revision Questions

Free
Practice Tests

Hazard Perception Test
Included

Unlimited
Mock Tests

100%
Pass Guarantee

Progress Tracker
& Results
Prepare Your Driving Theory Test With (theorytest-ireland.com)
A game-changing resource trusted by 80,000 users empowering people to pass their theory test on the first try.
We help you prepare better for your test with 700+ RSA revision questions, unlimited mock tests, and practice tests.
With us, you can rest assured that you're fully prepared for the test.
Take a Free Practice test
How To Pass Your Driving Theory Test
We have kept things simple for you.
Here's how you can ace your test worry-free.

Practice
Test your knowledge with our real-like practice questions for free.

Mock Test
Try various mock tests for cars or motorcycles to prepare for your DTT.

Pass
Book your actual test day and pass it on your first try with flying colors.
3 Steps to Success ‒ Pass Theory Test Ireland
By following these three pillars of success, you can pass your 2023 Irish Theory Test on the first try, guaranteed.
Prepare for the Official Test With Legitimate Practice Questions
Theory Test Ireland draws from a bank of over 700 questions, so it's essential to know what you'll be asked. We make it easy on your brain by dividing questions into categories so you can connect the dots as you go, as well as life-like tests that produce questions at random.
Take Our Simulation Theory Test Online
We'll prepare you for the real deal with simulation tests that mimic the look, feel, and time restraints present on the official test. You can take our mock tests as much as you'd like, with different questions each time.
Book the Official Theory Test Ireland (and Pass, Of Course!)
Once you're able to answer at least 35 out of 40 questions consistently, you're ready to book your Theory Test. You can do so right through our website, where we'll help you find a time that works for you and a nearby centre.
What to Expect With This Irish Theory Test Training
Our Theory Test online materials contain a multi-faceted approach that guarantees success with this complex subject. Here's what you can expect:

Customise Your Learning by Topic
Go through each category at your own pace, jump to topics you struggle with, and group information together to better understand overarching themes.

Free Theory Test Practice Exams
Simulation testing is the most effective way to prepare for Theory Test Ireland. Our mock exams are structured exactly like the official test, with up-to-date questions chosen randomly, time restraints, and formatting.

More Than 700 Questions Akin to the Real Test
Our training encompasses over 700 questions that are present on the actual Theory Test. When you prepare thoroughly with our materials, you'll never be surprised by a question you've never seen before.

Unlimited Access to Our Mock Tests
Step into a pressure-free study zone with limitless opportunities to take our simulation Theory Test online. You'll feel right at home when you take the real test!

A Handy Progress Tracker to Stay on Task
Our testing portals are designed to keep you in the loop about your performance, letting you know how many questions have left, how many are incorrect, and how much time you have to complete your test.

A Challenge Bank to Track Those Hard Questions
Our system makes tackling tricky questions easy by automatically putting incorrect answers into your challenge bank. Simply head to your challenge bank in the menu to view those questions and the correct answers!
Why Choose Our Theory Test Practice Materials?
There are several methods for studying to pass Theory Test Ireland, so why choose tt-ie?


Get Instant, Personalised Feedback
We believe that studying should be empowering to be successful. That's why our online system gives you feedback throughout your practice tests, so you always know how you're doing.


Receive Helpful Hints Along the Way
Our Theory Test practice materials provide an intuitive experience with helpful hints throughout your study sessions, so you'll never feel completely lost.


Be Prepared With the Most Up-to-Date Questions
Never worry about getting correct information when you choose our Theory Test online exercises. We ensure that our resources are updated each year.


Get Unlimited Access for One Year
When you choose tt-ie, you'll receive unlimited access to our study tools for one year, letting you take your time if you need to or retake Theory Test Ireland multiple times.


Join 80,000+ Other Successful Users
Our resources are trusted by more than 80,000 satisfied test-takers, who've enjoyed the independence, empowerment, and intuitive learning provided by our exercises.


Pass Theory Test Ireland (Guaranteed)
Our Theory Test practice materials provide everything you need and more to excel in the Driver Theory Test. With some time and commitment, we guarantee you'll pass with flying colours.
Create Your Own Curriculum or Learn Multiple Topics at Once
Throughout our website, you'll find some of the more significant categories of the test broken down into topics, making it more digestible for you.
Road Signs & Road Rules
Learn to recognise road signs and the basics of navigating the road in Ireland with imagery and real-life situations.
Sharing the Road
Gain an in-depth understanding of how to properly share the road with pedestrians, bicyclists, and other vehicles.
Managing Emergencies & Unusual Situations
Always be prepared by learning how to manage emergencies and keep yourself and others safe when the unexpected happens.
Understanding Your Driver's License & Demerit Points
Get to know how driving permits and licenses work and what actions could have them taken away via Ireland's demerit points system.
Vehicle Handling & Safety
Learn everything you need to know about handling a vehicle, listening for cues, and checking the status of your car to ensure you're keeping yourself and others safe.
Understanding Turning & Intersections
Learn how to navigate turning and intersections and avoid errors (the majority of car crashes happen by mistakes made in intersections or while turning!)
Vehicle Insurance & Registration
Understand the ins and outs of Ireland's legal system regarding vehicle insurance and registration.
All About Stopping & Parking
Learn where and how to slow, stop, and park your vehicle properly.
Are You Ready to Pass on the First Try With Our Theory Test Online?
When you utilise the tools given here, there is no doubt you can pass your Driver Theory Test on the first try. In fact, we've created these study materials to make it inevitable.

Practice Questions by Topic
Some topics may come easier to you than others; avoid wasting time by taking practice tests tailored to increase your knowledge in specific categories!

Track & Conquer the Difficult Questions
It's never been simpler to tackle the hard questions! Our automated system rounds up all of your incorrect answers into your challenge bank until they're answered correctly.

Have Unlimited Access to Our Theory Test Ireland Simulator
You're destined to succeed when you have limitless opportunities to test yourself and refine your knowledge. Enjoy unlimited access to our exercises for one full year!
Prepare for your Driver Theory Test Ireland with our free theory test practice questions
Whether you're turning 17 and ready to start driving lessons, just a late bloomer ready to start driving, or you're new to the country and want your licence, these practice test questions are perfect for you. Our practice questions are just like the real thing, with answers based on the information needed to help you pass the test.
Practice Theory Test
How to Pass Your Theory Test Ireland
The faster way to prepare to ace your theory test on the first try
1. Use the Theory Practice Tests
Our theory test practice questions cover all the aspects of the knowledge test you should know. You get questions and answers on road signs, rules of the road, hazard perception, risk assessment, and everything else you'll be tested on.
2. Take the Mock Theory Tests
The mock theory tests are designed to be just like the real one. You will get timed tests with the same number of multiple-choice questions structured just like the official test. You'll know exactly what to expect on the real thing.
3. Pass Your RSA Theory Test
Enter confident and ready to pass your Ireland theory test. Once you can consistently answer the practice questions correctly and get a minimum of 35 of the 40 questions right in the mock tests, you're ready to book, sit, and pass.
The best way to study to pass your theory test Ireland
With detailed explanations for each question, you'll study faster, learn more, and get better at retaining the information.
---
Taking theory practice tests results in a much higher pass rate than studying just the driver handbook alone. Our theory tests provide immediate results, so you'll know instantly if you're answering correctly.
Practice tests are more effective study materials than just theory test question and answer PDFs.
Aspiring Ireland learner drivers who use online theory tests are more likely to pass than those who use the PDFs and manuals alone.
Driving theory test questions structured to be just like the official test
Immediate answers with detailed explanations
Challenge bank with complicated test questions you answered incorrectly
Updated theory tests questions for 2023
Ideal for first-time test takers, renewal applicants, and persons who had failed before
The DTT Irish theory test has a lot to cover. Put yourself on a better footing to say, yes, I'm qualified to apply for my learner's permit. So, if you're searching for 'practice theory test Ireland', you've come to the right place. We know how to build test sites that increase pass rates. And we're ready to help you breeze through your theory test with ease. Here's why.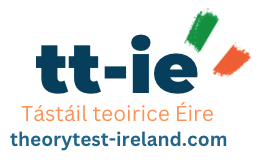 Try our free theory test practice questions to help you pass your official DTT theory test.
Our online practice material is just what you need to pass your Irish theory test.
Our Best Articles
Articles
The first step to your learner permit is passing the driver theory test Ireland administered by the Road Safety Authority (RSA). You need to pass this test to show you know and understand the rules, regulations, and requirements for driving in Ireland. After you pass the theory test, it is only then that they expect you are competent enough to apply for and be granted your learner permit so you can begin your on-the-road driving training.
You have two (2) years after passing the theory test to apply for your learner permit. Otherwise, if you exceed this 2-year limit, you will have to retake the theory test, including paying a new fee to do so.
1. To be able to drive in Ireland
To drive legally in Ireland, you need a valid driving licence. To get one, you must first get your learner permit (cead foghlamora) (formerly a provisional driving licence), take lessons, and pass your official driving test. The learner permit and the licence are both issued by the National Driver Licence Service (NLDS).
The learner permit allows you to drive on all public roads, except motorways if you're accompanied by a full licence holder. This allows you to start practicing for your driving test for your full licence.
To have a valid ID
You can use your learner permit as a valid nationally acceptable picture identification (ID).
Practice. The best way to pass your theory test is lots of practice test questions and mock tests.
Using a theory test online site allows you to access hundreds of test questions and answers. This gives you the opportunity to study every aspect of the test while preparing for how the test will be done – multiple-choice questions.
So, have you just reached 17 and are now eligible to begin the process of getting a learner permit? Or you're new to the country and getting ready to get your new driver's licence? These theory practice tests will make the difference in whether you get them on your first try or not.
So, start practising so you can ace your theory test in no time.
Our Best Articles
Articles
It's time for you to get your driving license in Ireland and the first step is attempting the theory test Ireland. Across different test centers, its pass rate averages 55% which is almost half of test takers. But appropriate preparation and understanding of the exam structure can help you pass the test on the first attempt.
Here is a brief introduction to the exam structure to help you get started.
Test Tutorial
The exam is computer-based and you will use either a mouse and keyboard or a touch device to attempt it. As part of the exam, you will see a short tutorial before the attempt. You aren't required to be computer literate to take the test. But when you are preparing, practice taking tests to increase your efficiency in the use of test equipment.
Format
The Irish DTT contains multiple-choice questions. For the motorcycles and cars DTT theory test, you get 40 questions and need 35 correct answers to pass it. The test allows you to go back on your answers. It means that if you are confused about a question, you can skip it and come back after attempting other questions.
Topics Covered
The Irish theory test questions come from RSA's provided study material. Note that although the official study material is enough to reasonably prepare for this appointment, you must practice theory test Ireland to increase your chances of success.
Here are all the topics covered in the test:
1.Vehicle control,
2. Legal matters and rules of driving on the road,
3. Managing risks on road,
4. Road safety and responsible driving, and
5. Technical matters.
The Irish theory test assesses potential drivers' understanding of driving skills and road etiquette. Based on 40 multiple-choice questions, this test isn't the easiest to pass. But you can increase your chances of success by preparing reasonably.
Here are the tools you need for your Irish theory test preparation strategy:
Study Material
You need to head over to RSA's official DTT theory test preparation website to access the study material. The resources are available in the form of CDs or subscriptions. You will get the content in a question-and-answer format that will allow you to test your knowledge as well as deepen it with new information.
Get Practical Knowledge
You aren't allowed to drive before passing your theory test Ireland. But you can familiarize yourself with the vehicle and its operations without driving. Ask your friends or family members to help you with concepts introduced in the study material.
Practice Driving Test Questions
The first revision step for Irish DTT is assessing your concepts. You need to ensure that you know every topic. Note that you are only allowed to incorrectly answer five questions in the exam before getting disqualified. So, you must prepare every topic area well to eliminate misunderstanding of these concepts. The more you practice revision questions, the more you understand your weaknesses and remedy them.
Practicing is even more important for you if you are applying for the test as a foreigner. Your previous understanding of driving skills and laws about road safety may conflict with Irish laws, thus increasing your chances of getting the answers wrong.
Practice Timed Tests
The Irish theory test spans only 45 minutes. During this time, candidates must answer 40 questions and get at least 35 correct to pass the exam. On average, it allows 1 minute for every question you attempt. As you can see, the exam makes you time-pressed, adding another layer of stress for you to handle. But if you have learned to read, understand, and answer these questions quickly, your attempt will become easier.
One way to train your brain in timely answering these questions is by practicing mock exams. Practice online using a quality mock test provider for the DTT theory test. Attempt multiple of these exams to build your confidence. If you are using the right revision tool, you should get enough confidence to ace the exam without feeling stressed.
Be Mindful
Start preparing for the exam the day before. You wouldn't want to crowd your schedule the previous night so you can sleep early and wake up fresh. Plus, it's enough to go through your notes on the last day before the exam. But don't overdo it or you might feel tired.
Arrive early to allow enough time for checking in and relaxing.
Passing the theory test in Ireland is the first step to getting a full driving license in the country. If you have prepared for the test, you should book the test to move to the next step. Note that the waiting time for most test centers spans months so you can even book the test before starting to study for it.
Online Booking – Required Information
You need to head over to the official Theory Test website of RSA to book the test.
Once on the webpage, you need to select the right category of cars and bikes.
You will be asked about your identity document. RSA accepts one of the following forms of identity for DTT Ireland:
1. Public Services Card,
2. Passports,
3. Irish passport cards, and
4. National identity cards.
Make sure to put the PPSN number correctly. The inability to do so will prevent you from attempting the test. You will also be asked about the type of vehicle you will drive – car or motorcycle – and the test center location you prefer.
Testing Accommodations
While booking the test, you will also be asked about specific testing accommodations you need. You will need the eligibility number to claim these accommodations. You can also select between language choices to take the test.
Fees
After selecting the test center and entering your personal identity information, you will have to pay the testing fee using your credit or debit card. The testing fee for AM, motorcycles, and BW, cars, categories is €45.
Note that you can reschedule your theory test Ireland up to 5 days before the test date without foregoing the fee.
Now you have prepared for and booked your theory test Ireland, it's time for you to prepare for the actual appointment. Note that arriving at the test center with the right attitude and documents is necessary for you to take the test and pass it.
Here is a checklist of activities you do on the test day.
Relax
To increase the chances of success on the Irish DTT, you must offer a complete presence of mind. You can only offer that when you are relaxed and confident. Revise the study material once the day before the test and collect all the things you will need to arrive at the test center and appear in the exam.
Things to Bring to the Test Center
You can bring your possessions to the test center where you will keep them in the assigned locker for the test duration. So, keep your cell phone and wallet with you. Take the identity document you used to book your appointment at the test center. Plus, make sure to wear a face mask.
RSA allows you to reschedule the test without foregoing your test fee if you caught COVID-19 on the test date. Call 0818 606 106 to ask for a reschedule and stay at home.
Know the Drill
You have to cooperate with the staff. They will ask for your identity document to proceed. Be prepared to sign the check-in form and be photographed before entering the test chamber.
You can choose to watch the tutorial for use of test equipment. After the tutorial, the test will begin. The invigilator will be present in the room, ready to assist you if you encounter technical issues while taking the theory test online.
You have gotten more than 35 questions correct in your Ireland theory test and passed it. Now, you are eligible to get a learner permit to start practicing driving skills. This post will discuss how you should proceed after passing the Irish theory test.
Ensure Your Eligibility
You can only apply for a learner permit if you have passed the DTT theory test in the last two years. Other eligibility criteria are as follows:
You must be a normal resident: a normal resident is one who resides in Ireland for at least 185 days each year because of personal or occupational ties.
You must meet the minimum age requirement which is set at 16 years for a moped and 17 years for a standard car.
Preparing Prerequisites
Here are the documents you should prepare to apply for a learner permit in Ireland other than passing your DTT Ireland:
1. Your Public Service Card or verified MyGovID,
2. Complete eyesight report,
3. Complete medical report,
4. Proof of normal residence if your place of birth and nationality are outside the EU/EEA.
How to Apply
You can apply both online on the NDLS website and in person by visiting an NDLS center near you. You can pay the fee for the learner permit using your debit or credit card. This fee stands at €35.
What Does Learner Permit Mean
An Irish learner permit allows you to start practicing driving under supervision. Note that the bearer isn't allowed to drive on the motorway and can never drive without the presence of his driving instructor. Plus, it requires you to display 'L' plates. The bearer of this license is prohibited from carrying passengers for payment.
In the end, learner drivers also need to adhere to a lower drink driving limit and penalty point disqualification threshold.
Irish Theory Test Training
Full driver's licence when you pass your tástáil teoirice tiomána.