700+
RSA Revision Questions

Free
Practice Tests

Hazard Perception Test
Included

Unlimited
Mock Tests

100%
Pass Guarantee

Progress Tracker
& Results
Ready to book your Irish driving test?
But first … Are you eligible? Did you pass your driving theory test?
Before you can sit your driving test in Ireland, you must first meet several criteria.
Pass your driver theory test. This 45-minute multiple-choice test covers several areas of road knowledge and use, and is a prerequisite for your learner permit.
Have a valid learner permit. You can only apply for a learner permit after you pass your driving theory test. And the permit must be at least six months old before you apply for the road test.
Completed EDT for cars or IBT for motorbikes. The essential driver training (EDT) must be done through an authorised instructor and the information uploaded by your instructor before sitting your driving test in Ireland. Or, you must have an IBT certificate for the correct motorcycle category.
---
You can check if your learner permit is valid here or review your driver training status for cars at this portal using your learner permit information.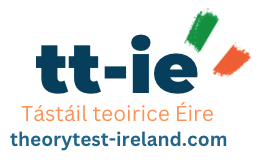 How it Works
How Getting Ready for your Driving Theory Test Works
1. Study for the Driving Theory Test
Use our online theory test questions and answers to prepare for your RSA driving theory test. Once you pass, apply for your learner permit.
2. Start Training for the Road
Begin your essential driver training to learn how to handle yourself on the road and put into practical use your driver theory knowledge.
3. Book Your Driving Test Online
Also review the theory test questions and answers before your actual driving test in case you're asked a few Irish driving test questions.
We have a major database of Ireland driving theory test questions and answers
The RSA driving test will assess your knowledge of the rules of the road and whether you can drive safely with respect to those rules. This test is a combination of your knowledge and answering theory driving test questions and your practical driving skills and awareness.
If you live in Ireland and want to get your full driver's licence, then let us help you with the first steps. Use our online questions to study for the RSA theory test to get your learner permit.
Let us help you prepare to tackle the knowledge base theory test questions. Start studying today with our Irish driving test questions.
Just like the real exam
We designed our test questions and mock theory tests to be just like the real thing. It's much better than simply going over the theory test revision material.
Instant feedback and explanations
Learn as you practice and see how much faster you retain the information. You get instant responses to each question so you can see where you go wrong and what to look over.
Prepares you for the unknown
Study with our driving test online questions that help you understand what to expect on the RSA driving theory test. You'll enter the Irish driving test ready for anything they may come at you with.
Keep motivated to learn
Enjoy the little suggestions, feedback, and interactive nature of the theory driving test questions and you'll be ready faster.
Ready to start on your driving test in Ireland questions?
Start with these driving test theory questions.
Our Best Articles
Articles
A driving test is a significant milestone towards achieving the liberty to drive in any country. It's often said that the driving test Ireland is a relatively difficult task to accomplish. But with proper preparation, you can pass it easily.
The driving theory test in Ireland covers the following;
Knowledge of Road Rules
Risk perception
Eco-driving
Hazard Awareness
Safe Driving Behavior
Let's discuss some key steps that can help you prepare well for the test.
1. Get Enrolled in a Course
The practical driving test needs practice and good road skills; however, to ace the written test, you should enrol in a good course and make books for your friends. Typically, the written test has multiple questions related to road rules and legislation to check your road knowledge.
You need to pass this written test and the practical test to get a driving licence. So, enrolling in a course is a good option as it will guide you about particular road rules and regulations, etc. Moreover, the instructor will share what type of questions you can expect and how to answer them.
2. Give Mock Tests
Once you have prepared everything and consider yourself ready for the final driving theory test, you should give a mock test to check your preparation. If you can't score up to your expectations in the mock test, you can reschedule your theory test. In the meantime, study what you found difficult in the mock tests and become fully proficient.
3. Hazard Awareness Preparation
Hazard awareness-related questions would also be part of your driving theory test. You can prepare for them by watching various 'hazard awareness' videos available on the internet. These might be tricky questions, so remain vigilant while answering them.
4. Stay Calm Throughout
You need to be calm throughout to get fully prepared for the driving theory test. It's because staying nervous or anxious will affect your preparation. To keep calm, first, you must remind yourself that this test is just like any other test you give, and there's nothing to worry about. After that, you should focus on your physical health to keep your brain energetic!
Booking your driving test is a mandatory step you must follow while paving the road towards your driving licence. However, the procedure for booking the test may vary for every country. Here we are going to discuss the booking procedure for the driving test Ireland. So, let's get into the details!
Procedure of Booking for Driving Test Online
The procedure for booking your driving test Ireland is very straightforward.
First, log in or sign up to the customer portal of MyRoadSafety.
Next, select the vehicle for which you want the licence. The options are car, motorcycle, truck, bus, etc. The test fees vary accordingly.
Once you've selected the right option, you will be directed to a new page sharing all the steps you must follow to pass the driving theory test and the practical one. Moreover, informational links are also given for each step to help you progress.
Next, you need to select your driving goal and click on the "Book a Driving Test" option to make the final booking.
If no suitable dates are available in your nearby centres, you will be on the waiting list. As soon as the slots are available, you will be notified through email. Remember that you can't register through call or email.
Steps to Follow Once You've Got the Booking Invitation
Here's what you need to do after getting the MyRoadSafety booking invitation in your email:
Pick the nearest or any available centre.
If you want help with your driving test practice, click on the "Special Accommodation" option and give details.
Choose a specific date and time for your driving test.
Next, select the "Pay now" option to make your test payment.
Don't forget to read the terms and conditions of MyRoadSafety.
Failing your driving test means losing another chance of getting your driving licence. So, to prevent this from happening, it's essential to understand the driving test format and prepare correctly. Let's discuss everything related to driving test stages and patterns!
Driving Test Stages
Two stages of the driving test Ireland include:
Driving theory test
Practical Driving test
Driving Theory Test Structure
The driving theory test is totally computerised, and you can quickly fill it with a keyboard, mouse, or touch screen. In the first stage of this test, a video tutorial is played on the screen, telling you how to answer questions.
The format of the theory test is multiple choice questions having an empty square beside each option. You can tick the one that you think is right and even skip or cancel a question if you want.
Motorcycle and Car Test Structure
The theory test for these vehicles has 40 questions in categories A and B. You must give at least 35 correct answers out of 40 to pass the test, and the time given is 45 minutes.
Truck and Bus Test Structure
For these vehicles, there are 100 multiple-choice questions in the C and D categories. To pass it, you should answer 74 correct answers out of 100, and the time limit for this test is 100 minutes.
Practical Driving Test
The practical driving test is straightforward and consists of around 100 minutes of driving. During the drive, the examiner checks different technical things and confirms if your vehicle is up-to-date or not. The practical driving test is divided into parts given as:
Vehicle safety and technical questions (includes knowledge about different vehicle parts such as mirrors, oil levels, tyres, seats, etc.)
Practical road driving (includes giving road signs, dealing with hazards, doing reverse, mirror usage, etc.)
Having your first driving license feels like a cool breeze on a sunny day. However, to reach that point, you first need to pass the driving test Ireland. So, to help you in this, we have listed the top tips that assist you in getting your driving license hassle-free. Let's delve into them!
1. Revise Everything Beforehand
Many people suggest not revising anything on the driving test day as it can make your mind cloudy and cause confusion. However, this is not true, as a session with your tutor before appearing for the final driving theory test clears your mind and allows you to get a good grip on all the possible questions. So, it's suggested to arrange a revision lesson beforehand and make your chances of passing the test robust.
2. Cover Everything
To ensure you stay confident during the driving theory test, you should perfectly cover every possible question or topic related to the test. Typically, the driving theory test checks your knowledge about the rules of the road, risk perception, driving legislation, etc. So, spend most of your preparation time learning these things, and don't leave out any minor detail. This thing will keep you calm and give you the required self-confidence dose to pass your driving theory exam!
3. Ask the Examiner
If you are unable to understand a question or have any other issue, there's no need to get nervous or anxious. Just calmly ask the examiner to make it clear for you and then tick the correct answer.
4. Don't Underestimate Yourself
The thought of failure is more stressful than actual failure. That's why it's suggested to stay calm and confident on your driving theory test day. Remind yourself that you are going to pass the exam, and don't underestimate yourself. Also, remember that you are allowed to make a few mistakes, and don't let small errors play with your nerves. Doing this will definitely help you pass your driving test in Ireland!
Conclusion
You can follow all those tips and tricks to pass your driving theory test and get on the road for enjoyment and adventures. Furthermore, if preparing for the driving theory test seems like a hurdle in passing the exam, contact Theory Test-Ireland and enrol in our special course to get proper driving test knowledge.
Passing the driving test is a huge milestone, making candidates anxious and nervous. If you are also panicking about what could go wrong on your driving test day, we have some tips to calm your nerves. So, let's quickly explore them!
1. Keep Yourself Ready
Undoubtedly, proper guidance helps a lot to ace the driving test, but in the end, you need to prepare yourself for the final stage. You can do it by telling yourself that this test is just like any other normal test, and you can definitely pass it with flying colours.
2. Don't Share with Anyone
If you share your driving test date and day with everyone, you are likely to feel nervous and pressured on the test day. So, it's best to keep it a secret and only share it with trusted loved ones for moral support.
3. Don't Miss Meals
Many candidates skip their meals before the driving test due to anxiety, but this isn't the right thing. Without eating properly, you will run out of the brain fuel you need to perform efficiently in front of an examiner. However, it's not necessary to have a full English breakfast, as a simple banana or juice glass can help.
4. Timely Arrive at The Center
To avoid getting hurried or waiting too long, reach the driving centre at least 10 to 15 minutes before the test. You can either utilise this extra time to chat a little with your examiner or make yourself comfortable in the vehicle.
5. Avoid Caffeine and Make Water Your Friend
You may think a dose of caffeine can boost your spirits on the driving test day, but that's not true. Taking a high dose of caffeine before appearing for a test can make you feel more nervous and frustrated. So, drinking plenty of water is suggested as it calms you and keeps you hydrated.