700+
RSA Revision Questions

Free
Practice Tests

Hazard Perception Test
Included

Unlimited
Mock Tests

100%
Pass Guarantee

Progress Tracker
& Results
Prepare Your Driving Theory Test With theorytest-ireland.com
A game-changing resource trusted by 80,000 users empowering people to pass their theory test on the first try.
We help you prepare better for your test with 700+ RSA revision questions, unlimited mock tests, and practice tests.
With us, you can rest assured that you're fully prepared for the test.
The better online mock theory tests
Experience what it's like to study with a compilation of online theory test questions that look and feel just like the actual RSA theory test.
All our mock tests feature a similar number of 40 randomly selected multiple-choice questions – just like the official test. The online mock tests are timed to the 45 minutes you need to use to answer all 40 test questions. And like the actual test, you will need to get 35 of the 40 questions right to pass each mock theory test.
So, try as many mock tests as you want, as often as you wish, to study for your RSA theory test.
Take a Free Practice test
How To Pass Your Driving Theory Test
We have kept things simple for you.
Here's how you can ace your test worry-free.

Practice
Test your knowledge with our real-like practice questions for free.

Mock Test
Try various mock tests for cars or motorcycles to prepare for your DTT.

Pass
Book your actual test day and pass it on your first try with flying colors.
A Scoop About What We Offer


Practice By Topics
Say bye to overwhelming yourself with tons of information. We have organized everything topic by topic so you can prepare hassle-free.


Free Practice Tests
Retain more by practicing everything. Assess our wide variety of free practice tests without logging in.


700+ Real Like Questions
Access 700+ questions that are designed just like the RSA format so you don't get confused about the format.


Unlimited Mock Test
Practice as much as you want with unlimited mock tests without being charged a single penny.


Progress Tracker
Keep a track of how you are performing on different tests to be fully prepared. Plus, make any changes by identifying your weak areas.


Challenge Bank
Missed any questions or didn't know the answer to some of them? Don't worry! Reattempt your complicated questions in the challenge bank.
Why Should You Practice With Us?
We're aware that there are many other driving test practice questions available online.
So why should you use ours to prepare?
Well, here are a few things you can consider…
Instant Feedback
Get immediate results if your answer is right or wrong with a detailed explanation.
Helpful Hints
Confused between answers? Get helpful hints in a click.
Unlimited Access
Access our 700+ practice questions and unlimited mock tests for free for 1 whole year.
100% Pass Guarantee
As long as you practice everything religiously, we guarantee you'll succeed.
Updated Questions
We regularly update all our tests whenever the manual is updated.
80,000+ Trusted Users
So far we have helped 80,000+ users ace their driving theory test worry-free.
Learn And Practice At The Same Time
Learn various topics and test your knowledge immediately by taking the test. Here are some of the topics that we help you cover:


Road Signs And Road Rules
Understand the meaning of different road signs and learn the road rules.


Sharing Road
Learn how to drive your car when you're sharing the road with other cars, bicycles, and motorcycles.


Emergencies
Uncover what to do when there's an emergency vehicle on the road with you.


Driver's License And Demerit Points
Discover things you should never do to avoid penalties on your driving license.


Vehicle Handling & Safety
Unearth how to drive safely to keep yourself and others around you safe.


Turnings & Intersections
Learn the best practices to steer your vehicle safely at intersections.


Vehicle Insurance And Registration
Skip the guesswork…uncover the whole process of getting your vehicle registered and insured.


Parking And Stopping
Get absolute clarity on where you can park the vehicle and stop to avoid getting a penalty.
Pass Your Test In Just 3 Steps
How it Works
Practice
Practice everything topic by topic to cover all the material worry-free.
Challenge
Make learning fun by challenging yourself to solve tough questions.
Test Simulator
Test your knowledge with our mock tests that are designed like the real DTT test.
Start Practicing Today!
o what are you waiting for? You don't need to log in…or pay any fees just start practicing today for free… If you want to pass Ireland's driving theory test. Simply, click the link below to get started.
Try Mock Test
Here Are The Game-Changing Benefits Of Our Practice Questions
Aspiring Ireland learner drivers who use online theory tests are more likely to pass than those who use the PDFs and manuals alone.
Get absolute clarity on the kind of questions you will be asked in your test
Say bye to confusion and overwhelm with practice
Avoid the dumb mistakes most people make
Skip the hassle of taking tests again and again
Say no to burning money on useless practice resources…get everything for free
Get your learner's permit in no time
And a lot more…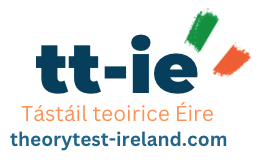 "I Can Just Read The Manual And Take The Test!"
You may have heard from your relatives and friends…
That the test is easy.
And you can pass the test by just reading books and manuals.
Let me warn you that it's a myth.
---
Just learning all the stuff won't help you pass the test because the driver theory test isn't easy.
Don't take my word for it.
Have a look at the stats here:
47.1% of people fail Ireland's driving theory test.
Why?
Because most of them underestimate the level of the test…
Thinking it's gonna be easy.
Get To Understand Your Irish Mock Theory Test
Just Like The Real Test
Randomly selected and updated theory test questions. Timed mock exam with 40 questions.
Accessible 24/7
Try our mock tests from anywhere across Ireland, any time, and on any smart device you prefer.
Helps You to Pass
Attempting all our theory tests means you know exactly how prepared you are for the real thing.
How many questions can you get right on each theory mock test online?
Put your RSA theory knowledge to the test. Try our free mock driving theory tests and see how well prepared you are for the official theory test. If you can't get a minimum of 35 out of 40 correct answers on each mock test, then you need to start studying with our practice theory test questions and answers.
Try Mock Test
The Effective and Faster Way to Study for Your Theory Test - Mock Theory Tests for Ireland
The mock test PDFs won't give you what you need to prepare for the official test. The RSA theory test is computerised, and the questions random. PDFs don't give you that realistic feel you need to prepare the right way.
That's why you need online mock theory tests!
Mock theory tests online give you the best chance of reviewing your test readiness while going over test questions and answers that are just like the official test. So, choose the updated mock theory tests to assess your knowledge and readiness before you book and try to sit your RSA theory test. Or you could end up having to book another theory test session.
Use these online mock tests to:
1. Learn the rules of the road and the traffic signs
2. Check your hazard perception and awareness
3. Master the theory behind safe and responsible driving
4. Identify and learn how to manage and avoid risks
5. Understand the technical driving and safety matters of your vehicle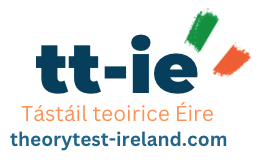 Learn to drive in Ireland – Your Go-to Learning Resource for the Theory Test Ireland
Practise your driving theory test with free revision questions and answers and our free mock tests online and …

Access hundreds of practices test questions like the official theory test

Lose the fear of the unknown as you know what to expect on test day

Study more effectively to make it easier to pass the RSA theory test

Increase your confidence and motivation to take on your theory test anytime
The easy and fast way to get ready for your RSA theory test
Complete mock theory test online to ensure you get all you need to ace your theory test the first time.
Our Best Articles
Articles – Theory Test Ireland
If you are of age and are looking for information on how to apply for your driving license, this is the right place to be. There is a proper procedure you follow to apply for a driving license. You should apply online and book your test on the official website of the Road Safety Authority (RSA).
Now, you must already have all the relevant material with you to apply for the test. Let us guide you and tell you what to expect in the theory paper.
Test Pattern – Know it to Ace it!
The theory test is the first step that leads you to a driver's license. If you don't pass this, you will not go to the second step of appearing in the practical test. So, it is very important to pass.
You will be presented with 40 MCQs. Some applicants get overconfident and think that multiple-choice questions are easy and can be done without studying. This is not the case. You need to study well to be able to attempt these questions.
Secondly, they are randomly selected by the computer. To pass the test, you need to get 87.5% marks i.e. 35 MCQs correct.
Your knowledge of road rules, vehicle control, hazard awareness, risk perception and other topics will be checked.
You will get 45 minutes to complete the test.
After you pass the theory, you will be called for the practical exam. Remember, the exam takers don't comment on your driving during the test, so don't worry if they seem quiet.
Initially, the exam taker might ask you a few general questions regarding driving. Next, you will drive for more or less five miles under different traffic and road conditions.
If you are looking for material to help you pass the exam, we recommend trying the free tests which are available on The Theory Test Ireland. We have mock tests which are the same as the real ones. You can take as many attempts for practice as you want!
Are you wondering how you can apply for your driving license in Ireland? No worries. This article covers all that you need to know. The NDS (National Driver Licensing Service) issues both the driver's license and learner's permit.
Prerequisite to Getting Your Driver's License
You need to meet the following prerequisites before you apply for a driver's license in Ireland.
Be a resident of Ireland.
Live in Ireland for a minimum of 185 days a year.
Have been living in Ireland for at least a year before you attempt the driving test.
4 Steps to Get Your Driving License
1. Pass the Theory Test: Even before you give the practical test, you need to pass the theory test. For this, you need to study from the official material provided. To be sure that you understand the test pattern, appearing for mock tests is a good idea. If you want to try free tests, you can always go and check out the number of free tests available on this website. Next, apply for the official test online on the RSA website.
2. Get a Learner Permit: Once you have passed the theory test, you can apply for your learner's permit with the NDLS. This can be done online or by visiting them in person.
3. Practice: After you get the learner's permit, practice with a professional. You can get essential driving training courses for learning to drive.
4. Pass the Test: When you are satisfied that you know how to drive properly and can pass the practical test, you are ready. You can go and give the test.
The last step in getting your driving license is to apply for a full license after you get your Certificate of Competency. This is given to you when you clear the test and is valid for 2 years.
Once you have passed the theory test (refer to our article How to Ace your Mock Theory Test), you will be required to pass the practical driving test. Don't worry, breathe! First of all, relax! This article includes the top tips that will help you pass the test.
1. Study Well
The book is easily available for download online or can be purchased from any local bookshop. Along with the book, it is a good idea to get a good grasp on the offences and familiarise yourself with them. The better prepared you are, the better it is for you.
2. Complete all the Lessons and Pre-Tests
We always recommend being on the safe side. According to law, you are required to complete 2 dozen ETLs (essential training lessons) with an instructor. But, take as many as you want to.
3. Prepare like a Pro
Pre-preparation is essential. Keep all your documents in check a day before. Get your car checked too. Reach the center 10 minutes earlier than the reporting time.
4. Remain Confident, Focused and Calm
Self-confidence goes a long way. Even the best drivers are unable to perform well when they panic. Therefore, it is important to stay calm, focused and confident. Tell yourself "I am prepared for this, I can do it." Breathe deep and slow.
5. Keep a Good Distance
Learn the golden 2-second rule. There should be a distance of at least 2 seconds between the car in front of you and your car. During training, keep a greater distance.
6. Observe your Surroundings
Keep an eye open and see every yield sign, red light etc. Be careful not to miss any. If you miss one, you will fail. Remember one thing: never speed up!
Are you about to apply for your Irish driving license? First of all, congratulations! When it comes to driving tests, it is not only about how you drive your vehicle. You need to understand the rules and regulations of driving. The theory is equally important. The basic things that you need to know are:
The Rules of the road
What do road signs stand for
What are the risks that can occur on the road
Road traffic and its characteristics
Basic vehicle maintenance
What to do in case of an emergency etc.
This is just the tip of the iceberg. If you are about to apply for your mock theory tests, practice will make you perfect. You can go through the book as many times as you want to, but attempting tests is the better option. You will know exactly where you stand.
3 Steps to Ace Your Mock Theory Test
1. Attempt a Mock Theory Test: By attempting test questions, you can know how well-prepared you are. For example, try the car theory test to check your understanding of the relevant material.
2. Pick a Topic: Go slow and go topic-wise. When it comes to the actual test, it is computerised. The computer will randomly pick 40 questions for you which will need to be attempted. No one can say for sure that the questions will come from a particular topic. So, it is important to understand and learn each topic thoroughly. Once you are done with a particular topic, attempt the mock test topic-wise.
3. Practice, Practice and Practice: Pick online tests that are just like the real ones. With Theory Test Ireland, you can practice tests day and night. Moreover, they are as good as the real ones.
With our mock tests, you can practice tests 24/7 for free. With a proper test, you will be able to ace your actual test with ease.
Did you just pass your theory and practical exam? Well Done! Surely, it is a time to celebrate. Undoubtedly, the first thing you might want to do is to get on the road and show off your driving skills. In fact, you don't get the drive immediately but have to apply and get your driving license.
Certificate of Competency
Firstly, you are issued with a certificate of competency. This is not your driving license. Until you get an official driving license, you need to abide by the rules of the learner's permit. This certificate will be liable for 2 years.
If you are unable to apply for your driving license during this time frame, you will have to go through the entire process again.
Drive Safe
Once you get the driving license, you need to be very responsible. Your life and the life of people around you depend on you. People who pass the automatic vehicle test can only drive an automatic vehicle.
Rules and Regulations for Novice Drivers
The first two years you drive, you will drive in a vehicle that has N-plates.
You can't accompany or sponsor a B-category learner driver
A 20 mg drug alcohol level applies to you.
After 7 penalty points, you will be disqualified.
Remember: The learning process does not end with the driving test. Even the most experienced drivers can end up in accidents. Many factors affect driving ability. These are road and lighting conditions, weather, traffic conditions etc.
With time, you will gain experience and think you are a pro. This is dangerous. When you have years of experience behind you, you can become overconfident. This is not right.
Be vigilant, be prepared, be cautious. You can never be careful enough on the road. Lives depend on the way you drive. So, be careful and responsible on the road!